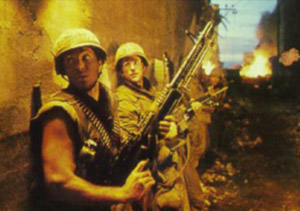 Dorian Harewood plays "Eightball": The black member of the Lusthog Squad, insensitive about his ethnicity (e.g. 'Put a nigga behind the trigger'), and Animal Mother's closest friend. The sniper shoots him repeatedly in attempt to lure the others into the open, before killing him.
Ad blocker interference detected!
Wikia is a free-to-use site that makes money from advertising. We have a modified experience for viewers using ad blockers

Wikia is not accessible if you've made further modifications. Remove the custom ad blocker rule(s) and the page will load as expected.